Looking for Sinus Infection Treatment?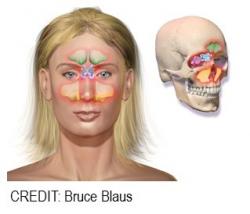 A sinus infection or sinusitis often follows an earlier respiratory infection, such as a common cold, tonsillitis or laryngitis. There are four sinuses, which are air pockets or cavities around the eyes and nose in the skull. Inside the nose, tiny hairs called cillia protect the body by trapping particles before they enter respiratory system. When a particle, spore or bacteria slip past the cillia and become lodged in one of the sinus cavities, mucous builds up, inflammation occurs and chances are good sinus infection treatment is in order.
In 2011, the Centers for Disease Control and Prevention reported that roughly 30 million adults suffered a sinus infection. Women were almost twice as likely to need sinus infection treatment and cases were significantly higher in the southern states. There are four classifications of sinus infections:
Acute: New sinus infection that may last up to four weeks
Subacute: A sinus infection that lasts between 4 and 12 weeks and may be a transition to chronic sinutis
Chronic: A sinus infection lasting for more than 12 weeks and can continue for months or even years
Recurrent: multiple sinus infections over the course of one year
Get Sinus Infection Treatment at FastMed
When you visit the FastMed location nearest to you, a medical professional will evaluate your condition and symptoms. For acute sinusitis, if a bacterial infection is present, antibiotics are the standard course of treatment. Decongestants and pain relievers may also be recommended. If you also suffer from seasonal allergies, there may be additional solutions to help relieve the inflammation causing pain and pressure, such as a nasal steroid spray.
During your visit, discuss how to use over-the-counter or prescription decongestant nose drops and sprays. You should use these medicines for only a few days, as longer term use can lead to even more congestion and swelling of your nasal passages. If you have asthma, a sinus infection can make your symptoms worsen, so please discuss your medical history during your appointment at FastMed Urgent Care.
Other related questions:
Poison Ivy Treatment | Urinary Tract Infection Treatment | Strep Throat What It Looks Like | TB Test | Ear Infection
About FastMed
FastMed Urgent Care owns and operates nearly 200 centers in North Carolina, Arizona and Texas that provide a broad range of acute/episodic and preventive healthcare services 365 days a year. FastMed also provides workers' compensation and other occupational health services at all its centers, and family and sports medicine services at select locations. FastMed has successfully treated more than six million patients and is the only independent urgent care operator in North Carolina, Arizona and Texas to be awarded The Joint Commission's Gold Seal of Approval® for quality, safety and infection control in ambulatory healthcare. For more information about locations, services, hours of operation, insurance and prices, visit www.fastmed.com.