Need Urinary Tract Infection Treatment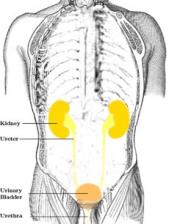 A urinary tract infection, or UTI, is an infection that occurs anywhere along your urinary tract, including your kidneys, ureters, bladder or urethra. Many urinary tract infections occur along the lower parts of the urinary tract, especially in the bladder and urethra, and can be painful and annoying, but more urgent care should be taken if it were to spread up into the kidneys. It is common to have some sort of urinary tract infection treatment before this happens.
Due to their biological makeup, females are at a much greater risk of a urinary tract infection development, though males can develop them all the same. Some symptoms of a urinary tract infection include, but are not limited to:
– Persistent urge to urinate, commonly producing only small amounts of urine each time
– Burning sensation when urinating
– Dark and/or cloudy urine color
– Strong smelling urine
If you begin to notice any or all of these symptoms, it may be time to consider visiting a doctor. When you go to a doctor with urinary tract infection symptoms, you can expect them to do one, or a few, minor tests. They will commonly take a urine sample for analysis, perform a culture of the bacteria present in the urine, and if you have recurring infections, perform a cystoscopy to see inside of the urethra and bladder. Once the doctor has determined you do indeed have an infection, treatment can begin.
Urinary Tract Infection Treatment
Because a UTI is a bacterial infection, doctors will commonly use an antibiotic for a urinary tract infection treatment. Symptoms will typically start to clear with a few days of treatment, but antibiotics may be taken for a week or more to be safe. Other ways of fighting a UTI at home, before, during or after you start antibiotics include drinking plenty of water, avoiding drinks that may irritate your bladder (coffee, alcohol, soft drinks, citrus juices, etc), and the use of a heating pad.
A family doctor would be able to perform these test make prescribe the antibiotic, but if you are in a crunch for time, patients can visit their local FastMed Urgent Care center for any urinary tract infection treatments.
Other related questions:
Poison Ivy Treatment | Strep Throat What It Looks Like | Sinus Infection Treatment | TB Test | Ear Infection
About FastMed
FastMed Urgent Care owns and operates nearly 200 centers in North Carolina, Arizona and Texas that provide a broad range of acute/episodic and preventive healthcare services 365 days a year. FastMed also provides workers' compensation and other occupational health services at all its centers, and family and sports medicine services at select locations. FastMed has successfully treated more than six million patients and is the only independent urgent care operator in North Carolina, Arizona and Texas to be awarded The Joint Commission's Gold Seal of Approval® for quality, safety and infection control in ambulatory healthcare. For more information about locations, services, hours of operation, insurance and prices, visit www.fastmed.com.