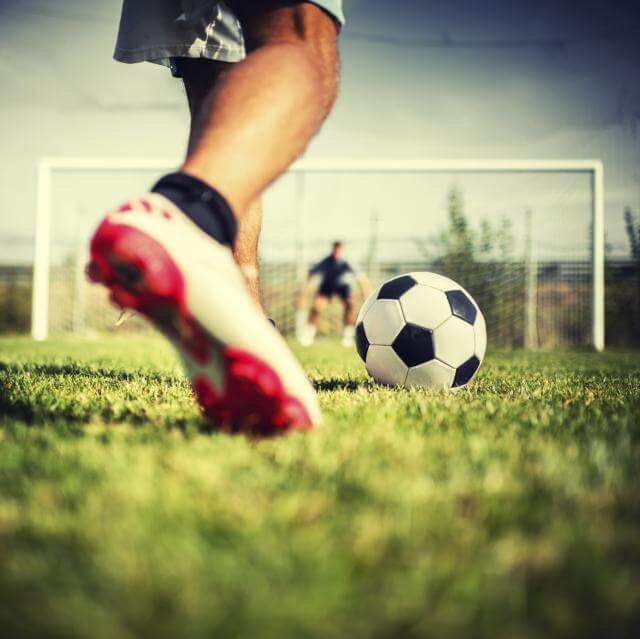 As a soccer player, you remembered to wear your shin guards. You're hydrated. This morning, on the day of the game, you even ate a healthy meal and packed a pre-game snack. You're absolutely ready for ninety minutes of running and kicking and trying to draw a foul after every tackle — but what about your noggin?
Football gets a lot of attention when it comes to sports-related concussions, as the nation realizes big hits come at a cost. But head injuries in soccer are also being researched.
So how can you protect your head and what do you need to know about concussions?
Protecting your head
In studies, heading the soccer ball has been related to mental impairment. If you are using your head to hit a soccer ball, be smart. Make sure you understand the proper technique. You also want to keep your head on a swivel. Unintentional hits to the head may be more traumatizing than if you headed the ball on purpose.
Another thing to keep in mind is that you want to protect young, developing brains. Be an advocate for kids. If you see a younger player heading the ball, stop them. Youth coaches should not encourage children to head the soccer ball and, according to Dr. Lyle Mitcheli, chair of the Sports Medicine Department at Children's Hospital in Boston, no child under 14 should ever head the ball.
Recognizing a concussion
Take a minute to review the symptoms of a concussion. In the hours or days after getting a concussion or taking a hit to the head, you may experience concentration problems, irritability, sleep issues, sensitivity to light, or problems with taste and smell. If you experience these symptoms, see a doctor. If an adult experiences symptoms of a concussion, he or she should seek treatment after repeated vomiting, loss of consciousness, confusion or physical disorientation, or if symptoms like headaches get worse over time.
Again, keep an eye on children, as they may not be able to express how they are feeling. If a child is unable to tell you if he or she was hit in the head, you can look for symptoms like irritability or crankiness, loss of balance, a dazed look, excessive crying, or an abnormal lack of interest or concentration. The Mayo Clinic recommends taking a child who has sustained a hit to the head to see a healthcare professional even if the symptoms are not perceived as an emergency.
At FastMed, we have you covered below the neck, too
While head injuries require a lot of attention, injuries on the soccer field vary. From a sprain or strain to a bump or bruise, it's important to see a doctor if you experience pain or swelling that does not go away.
Also, as more and more kids play multiple sports year-round, we're seeing an increase in overuse injuries. Things like shin splints, stress fractures, or tendonitis can be painful, and may require a professional opinion. The best way to prevent overuse injuries is by varying activities and getting ample rest.
Use your head, and call FastMed to keep you in the game
Soccer is amazing exercise. In some games, a player may cover an average of seven miles. But, like with other sports, you have to be careful. Once you're on the field, protect your body — including your head. We want to keep that brain of yours healthy and firing correctly so life on the field does not negatively impact life in the classroom or on the job.
When you get injured playing on soccer, check in online to see a healthcare professional at your local FastMed. We never pass on a chance to help you heal correctly.
About FastMed
FastMed Urgent Care owns and operates nearly 200 centers in North Carolina, Arizona and Texas that provide a broad range of acute/episodic and preventive healthcare services 365 days a year. FastMed also provides workers' compensation and other occupational health services at all its centers, and family and sports medicine services at select locations. FastMed has successfully treated more than six million patients and is the only independent urgent care operator in North Carolina, Arizona and Texas to be awarded The Joint Commission's Gold Seal of Approval® for quality, safety and infection control in ambulatory healthcare. For more information about locations, services, hours of operation, insurance and prices, visit www.fastmed.com.